Charter Spectrum Planning Major Fall Rate Increase: $70 Internet, $94 Cable TV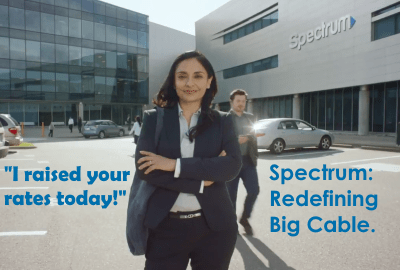 Charter Spectrum TV customers will pay at least $94 a month for cable television starting this October, thanks to a sweeping rate increase that will hike the cost of TV packages, internet service, equipment, and fees. Internet customers will soon face a base price for internet service of just under $70 a month.
Cord Cutters News quotes an anonymous source that claims the rate increases will begin in October, and will impact just about every plan except phone service.
The most striking increase is the Broadcast TV Fee, charged to recover the costs imposed by local TV channels. After increasing the price by $2 earlier this year to $11.99, Spectrum customers will now be required to pay $13.50 a month — almost $1.50 more. The Broadcast TV Fee alone will soon amount to $162 a year, just to watch TV stations you can receive over the air for free. Just a year ago, the average Spectrum customer paid a Broadcast TV Fee of $8.75 a month.
A Spectrum receiver is considered required by most customers, and starting this fall, it will cost $7.99 a month to lease one (up about $0.50 a month).
Cable TV packages are also getting more expensive:
Spectrum TV Select: $72.49 a month (was $64.99 a month)
Spectrum TV Silver: $92.49 (was $84.99)
Spectrum TV Gold: $112.49 (was $104.99)
Internet customers will not escape Charter's rate hikes either. The entry-level package — Spectrum Standard Internet (100 or 200 Mbps in some areas), will increase $4 a month to $69.99. If you use Spectrum's equipment for Wi-Fi service, your price is increasing $5 a month to $75.99.
Although the rate increases are significant, they are not outlandish when compared with the regular internet-only prices charged by other cable providers:
Comcast: 150 Mbps (a 1 TB cap applied in most areas) costs $80 plus $13 gateway rental fee = $93/mo
Cox:  150 Mbps (a 1 TB cap applies in most areas) is priced at $84 a month plus $11 modem rental fee = $95/mo
Mediacom: 100 Mbps (a 1 TB cap applies) costs $95 a month plus $11.50 modem rental fee = $106.50/mo
Note: Gateway/Modem Rental Fee can be waived if you purchase your own equipment. Prices are lower when bundling, and you may get a better deal threatening to cancel or agreeing to a term plan.
One Wall Street analyst, New Street's Jonathan Chaplin, predicted in 2017 that the cable industry would use its market power to nearly double rates consumers paid just a few years ago, which for most would mean an internet bill of at least $100 a month.
"We have argued that broadband is underpriced, given that pricing has barely increased over the past decade while broadband utility has exploded," the researcher said in 2017.
Customers should watch their September bills for Charter Spectrum's official rate increase notification. Customers on promotional or retention plans are exempt from increases except the Broadcast TV Fee and equipment charges until their promotion expires.
Customers that bundle multiple services will pay slightly lower prices as a result of bundling discounts, but the overall price increase will still be noticeable to most customers.
Cord-cutting is likely to accelerate dramatically because of Spectrum's TV rate hikes, as customers reassess the value of a basic cable television package that is nearing $100 a month.