Germany to massively expand electric car charging network
By KIRSTEN GRIESHABER yesterday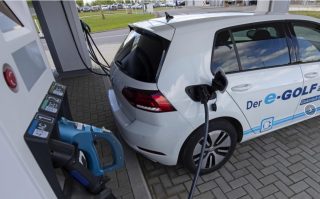 BERLIN (AP) — Germany wants to massively expand the country's charging network for electric cars, spending 6.3 billion euros ($6.17 billion) over the next three years as it expects more and more drivers to turn away from combustion cars to more climate-friendly vehicles.
The country's transportation minister on Wednesday presented a "master plan" for improving the charging infrastructure that had been passed by Chancellor Olaf Scholz' cabinet earlier in the day.
"We are not just any automotive location, but a leading one in the world. And that's why it's important to us that what we're preparing succeeds well," Volker Wissing told reporters in Berlin. "We need a forward-looking expansion of the nationwide charging infrastructure that meets demand and is user-friendly."
The share of electric vehicles in Germany grew 24.8% year-on-year to a total share of 14.6% of all newly registered automobiles, according to figures released by the country's Federal Office for Motor Vehicles.
There are around 70,000 charging points in the country but only 11,000 of those are fast-chargers, the ministry said.
That is not enough to sufficiently fulfill the current needs, and it will be even less so as the number of electric cars grows quickly. There is also a big difference in availability of charging points between big cities and rural areas, where it is even harder to find charging stations.