Services
INFORMATION MARKETING AND CONSULTING SERVICES
StockWatchIndex (SWI) is an extremely well informed, intimately connected and unbiased information marketing website and newsletter publication based on leading edge web technology and a broad Social Media outreach and presence. SWI provides financial research and corporate consulting services and generates market exposure in the investment community for public companies. The SWI web site breaks down into company specific sub sites, focusing on certain market segments and companies represented by SWI.

A NEW BI-COASTAL ALLIANCE
StockWatchIndex Small Cap Nation
These two experienced information marketing, financial consulting and on demand video report broadcasting services have formed an Alliance to provide broadly expanded and well-synchronized bi-coastal services to their clients. The Alliance is closely managed and coordinated by the two principals of Small Cap Nation and StockWatchIndex respectively, Hugh Austin and Rainer Poertner with locations in
New York
and
Los Angeles.
The team represents approximately a combined sixty (60) years of Wall Street experience and accordingly has deep routed personal relationships in the financial and information industry. They have founded, managed and consulted with private companies, transitioned them into successful public entities and have held key management positions in leading edge, public technology and Wall Street firms. The Alliance has assisted in raising more than $120 Million.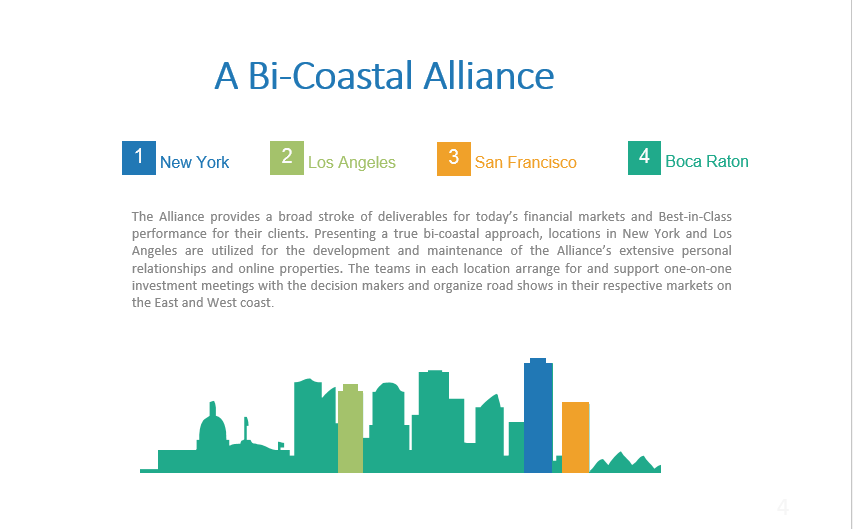 The Alliance provides a broad stroke of deliverables for today's financial markets and best-in-class performance for their clients. Presenting a true bi-coastal approach, locations in New York and Los Angeles are utilized for the development and maintenance of the Alliance's traditional relationships and online properties. The teams in each location arrange for and support personal investment meetings in their respective markets on the East and West coast and currently represent clients from around the globe.
Alliance Services
Market Information Services
Alternative IPO strategies
Reverse Mergers or SB2 Direct Registration
Execution of "Going Public" process
Legal and auditing teams
Fund raising
Merges & Acquisitions
Investor Relations
Market Awareness Campaigns
Internet and social media presence
Top Talent
The Alliance teams represent the top talent in information marketing (traditional and digital), investor and media relations, reverse merger execution and leading edge Domestic and International business development today. They provide support for capital formation of domestic and international early-growth stage companies, and provide a path for private companies to go public via SEC
approved, alternative and cost-effective methods
Financial Gatekeepers
The Alliance places its clients in front of carefully selected decision makers,
market makers and financial gatekeepers. These are the groups that have
consistently invested with us in the past, know your industry, care about your business and can make a substantial difference in the development of your
company. In recent years, the Alliance has assisted in raising more than $150 Million for Domestic and International companies in the US market.
Custom Tailored Solutions
In depth financial analysis of client business
Industry and peer comparison
Close relationships with investment bankers, institutional and private investors, brokers/dealers
Identify lead investment banks for fund raising
Pre-qualify and conduct management interviews
Establish investor database
Acquire experienced legal advise
Acquisition research and support
Provide access to influential board members and advisors with critical knowledge of your industry
Reverse Mergers
Position clients in front of the right decision makers
Capital Formation
Organize Media events
GOING PUBLIC
The Alliance specializes in taking small companies public through an innovative, cost-effective and custom tailored process. SWI also executes market awareness campaigns for small public companies to improve their market position, support their stock trading activities and establish a fair value for their stock. SWI's marketing campaigns are implemented to elevate its clients' position to a new level of market awareness and in order to successfully reach their financial goals. Leading clients through the process of going public, establishing a share value in the market thereafter and helping to raise required capital for them is not merely a consulting-oriented activity. SWI closely works with its corporate clients not only to enhance shareholder value, but also to help companies set realistic goals and establish performance measures to monitor progress against the set goals to assure continued success.
Business Development – Market Awareness
The Alliance provides pre and post "Going Public" consulting services and corporate support in general. It provides consulting services for business development and growth and executes far reaching social networking and market making and investor relations campaigns.
Raising Funds – Supporting Stock
The Alliance has extensive syndicate relationships, as well as access to a large financial network to meet its clients' fund raising needs. Corporate clients are considered equity partners. Raising funds for business expansion and supporting the stock with focused and effective IR campaigns after taking the company public, is one of the core competencies of StockWatchIndex. SWI's management has raised significant funds for a number of public companies in the past.
NEWSLETTER
Be sure to sign up for our watch list to receive timely alerts and updates about the general market and public companies that have the potential to make you money time and time again. [button class="pure-skin-swi pure-button pure-button-default" style="btn-default btn-lg" icon="glyphicon-pencil" icontype="glyphicon" align="left" type="link" target="false" title="Site Membership" link="/membership-account/membership-levels/"] To inquire about our consulting services, please contact us via the form.
[contact-form to='
[email protected]
' subject='Request for info%26#x002c; P to P'][contact-field label='Name' type='name' required='1'/][contact-field label='Email' type='email' required='1'/][contact-field label='Business' type='text'/][contact-field label='Comment' type='textarea' required='1'/][/contact-form]