GoPro Shares Soar on Analysts' Hero4 Expectations
Analysts are saying: "Mo GoPro!" as the company's shares took off this week, in part juiced by bullish projections and also supported by the anticipation that its Hero 4 camera will hit the market in time for the holidays, unlike the Apple Watch.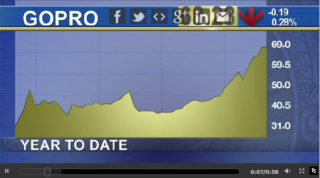 With a $500 price tag, and a tightly cornered niche market, GoPro stock soared to new highs this week, marking more concern for some investors. The stock is trading at 100-times book value, but with no clear-cut competitors in sight, the company may have years ahead of it with unrivaled market performance in its industry. GoPro is ready for its closeup as the Chart of the Day.