Livewire sets the Standard – 100% Organic – Tractor-less Cannabis Cultivation
LiveWire Ergogenics

@livewireLVVV
Estrella Ranch Weedery employs 100% organic soil-based growing systems featuring
"tractor-less" above ground methods along with proprietary nutrients that are produced onsite. 
Our zero waste high-performance strategy is a resource efficient process- with up to 50% less water.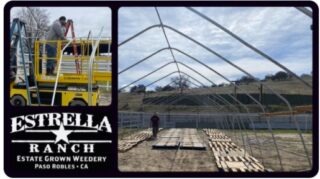 About Livewire Ergogenics Inc. Livewire Ergogenics, Inc. (LVVV) specializes in identifying and monetizing current and future trends in the health and wellness industry. The Company owns, manages, and licenses specialized cannabis real estate properties conducive to producing high-quality handcrafted cannabis products for medicinal and adult-use in the US. This includes the distribution of these products and the creation of a Nationally recognized organic "Estrella Weedery" brand. Livewire Ergogenics does not produce, sell, or distribute products that are in violation of the United States Controlled Substance Act. For more information, please visit: LiveWireErgogenics.com.
Forward-Looking Statements. This release contains forward-looking statements within the meaning of Section 27A of the Securities Act of 1933, as amended and Section 21E of the Securities Exchange Act of 1934, as amended. All forward-looking statements are inherently uncertain as they are based on current expectations and assumptions concerning future events or future performance of the company. Readers are cautioned not to place undue reliance on these forward-looking statements, which are only predictions and speak only as of the date hereof. In evaluating such statements, prospective investors should review carefully various risks and uncertainties identified in this release, the Company's Social Media postings and matters set in the company's SEC filings. These risks and uncertainties could cause the company's actual results to differ materially from those indicated in the forward-looking statements.