San Francisco Examiner Picks Livewire's Estrella River Farms...
San Francisco Examiner Picks Livewire's Estrella River Farms as one of the 12 Best Flower Brands for 2023 in the Bay Area

12 Best Flower Brands for 2023 In San Francisco Bay Area
According to a Pew Research study, 59% of Americans believe recreational cannabis consumption should be legal for adults. The "Stoner Stigma" is falling away and cannabis consumption can be compared to drinking wine; a social ritual that relaxes you and elevates the experience. Just like fine wine grape vines, premium cannabis is carefully cultivated. Tended with care and science – the ultimate focus is on the final product for the consumer. The CDFA's Cannabis Appellations Program (CAP) is working toward making cannabis cultivation regional designations on par with those of Napa and Sonoma Valley. There is even a sommelier of cannabis certification – a ganjier – program available in Humboldt County. Flower and genetic brands are like the vintners (herbners?) of cannabis. Some grow and package the best, others find and combine the best. Here are the best "herbners" to watch in 2023.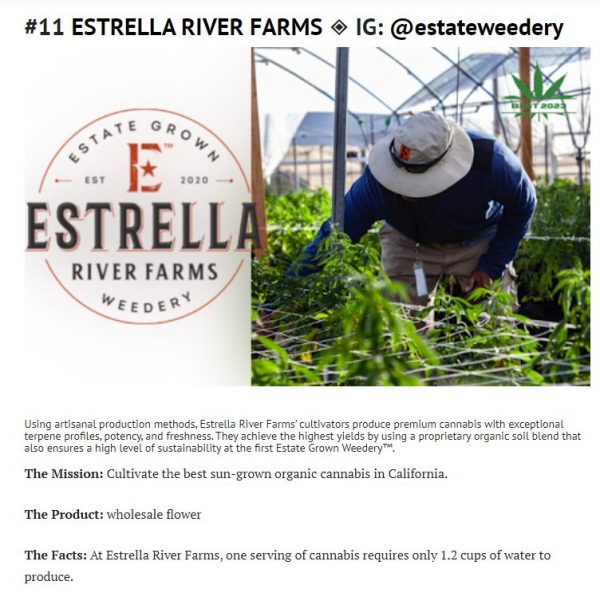 The Livewire Estate Grown Weedery 
Estrella Ranch is a historic ranch property in Paso Robles, the center of California wine country. Through its subsidiary Estrella Ranch Partners, the Company has transformed this stunning property into the world's first "Estate Grown Weedery," with three acres of high-end, organic sun-grown cannabis products and eventually becoming the ultimate Cannabis tourist and education destination. Estrella Ranch is the central hub for all Livewire operations in California and shares valuable resources as needed with Livewire's subsidiary Makana Ola Ranch in Humboldt, California. Makana Ola Farms is a 40-acre property with a 10,000 sqft cultivation area located in the heart of Humboldt County in Northern California, the birthplace of California's cannabis cultivation. Makana Ola is a well-guarded secret of unique marijuana horticulture with a long tradition of quietly growing amongst the giant redwoods. The Livewire Estate Grown Weedery cultivation approach focuses on the cost-effective production of the best quality organic-style cannabis in California while generating the smallest possible carbon footprint and using as few of California's energy resources as possible. Visit https://estrellariverfarms.com.
About LiveWire Ergogenics Inc. 
The Company focuses on acquiring, managing, and licensing well-qualified cannabis real estate locations of fully compliant facilities to produce cannabis-based products for statewide distribution in California. This includes developing and licensing high-quality organic cannabinoid-based specialty products and services to create the high-quality "Estrella Estate Grown Weedery™" brand, cultivated by its subsidiary/affiliate companies Estrella Ranch Partners, Estrella River Farms, and Makana Ola. LiveWire Ergogenics does not produce, sell, or distribute products that violate the United States Controlled Substances Act. For more information about LiveWire Ergogenics, visit www.livewireergogenics.com. For non-material updates, follow LiveWire Ergogenics on Twitter @livewireLVVV, or go to www.stockwatchindex.com/livewire-ergogenics. 
Forward-Looking Statements 
This release contains forward-looking statements within the meaning of Section 27A of the Securities Act of 1933, as amended, and Section 21E of the Securities Exchange Act of 1934. All forward-looking statements are inherently uncertain as they are based on current expectations and assumptions concerning future events or the Company's future performance. Readers are cautioned not to rely on these forward-looking statements, which are only predictions and speak only as of the date hereof. In evaluating such statements, prospective investors should carefully review various risks and uncertainties identified in this release, the Company's Social Media postings, and matters set in the Company's SEC filings. These risks and uncertainties could cause the Company's actual results to differ materially from those indicated in the forward-looking statements.