SWI Initiates Coverage on Hemispherx Biopharma, Inc. Download Research Report – Watch CEO Interview

Marina del Rey, CA – August 3, 2016 – SWI today announced that it has initiated coverage on Hemispherx Biopharma, Inc. (NYSE:HEB). HEB is an advanced specialty pharmaceutical company engaged in the manufacture and clinical development of new drug entities for treatment of seriously debilitating disorders. Hemispherx's flagship products include Alferon N Injection®, the experimental therapeutics Ampligen® and Alferon® LDO. 

                            RESEARCH REPORT


FAST GROWING LARGE MARKET FOR DEBILITATING DISEASES
Debilitating diseases are a complex mosaic of an estimated 6,000 –8,000 conditions. The US demand for drug delivery products are expected to  expand 10.4 percent annually from $168 Billion in 2016 to $319 billion by 2021. HEB's product development aims to take advantage of this huge market opportunity.
                CEO INTERVIEW ON SMALL CAP NATION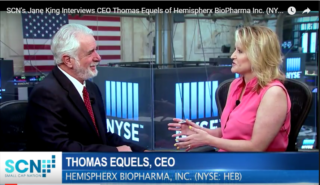 ACCELERATED PRODUCT DEVELOPMENT THROUGH COLLABORATION
Hemispherx is aggressively pursuing co-development and/or licensing partners for Ampligen® with focus on Immune-Oncology, Myalgic Encephalomyelitis/Chronic Fatigue Syndrome (ME/CFS) and vaccines. The company is also seeking co-development and/or licensing partners for Alferon  to expedite product development and revenue generation.
EXCEPTIONAL INVESTMENT OPPORTUNITY
Hemispherx Biopharma, Inc. is a company that has implemented a structure with promising products pron for extraordinary success in place. We consider HEB  an exceptional investment opportunity that you cannot afford to miss.
For more information go to: