Tesla Semi trucks, Powerpacks, and solar to be used in new near zero-emission Frito-Lay facility
Tesla Semi trucks, Powerpacks, and solar to be used in new near zero-emission Frito-Lay facility
Fred Lambert | Jan 18 2019 — 6:00 am PT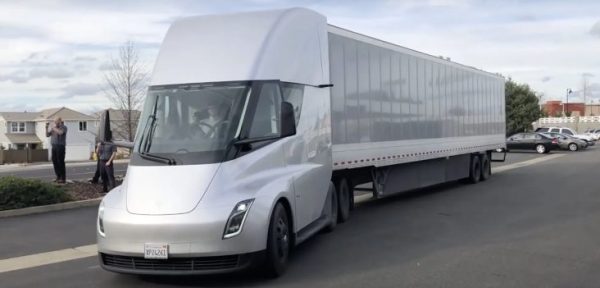 esla is partnering with PepsiCo's Frito-Lay to design a new "near zero-emission" distribution facility that will involve a whole fleet of Tesla Semi electric trucks, along with a few other electric vehicles, a charging system, some Tesla energy storage systems and a solar array.
The project is part of the California Air Resources Board and San Joaquin Valley's effort to reduce air pollution, which has been a real issue in the region.
They have approved Frito-Lay's $30,764,486 project and the state will contribute half the funds.
With the money, they plan to retrofit the company's Modesto facility, one of Frito-Lay's largest food facilities, to become "a bold and transformative effort that will yield a world-renowned showcase for economically and environmentally sustainable manufacturing, warehousing and distribution."
They listed the new equipment that will be tested as part of the project in a filing:
15 heavy-duty Tesla battery electric trucks
6 Peterbilt e220 battery electric straight trucks
3 battery electric BYD yard trucks
12 Iron-Phosphate battery electric BYD forklifts
38 Volvo trucks fueled with ultra-low carbon renewable natural gas
On-site renewable energy generation (solar PV)
Energy storage systems from Tesla
Electric vehicle supply equipment
A publicly accessible renewable natural gas fueling station
Several partners are involved, but Tesla appears to be the main one with several different products.
They described Tesla's role in the filling:
"Original Equipment Manufacturer (OEM) [Tesla[ will deliver 15 highly anticipated Tesla Semis along with battery electric truck charging infrastructure, a largescale solar PV system, and two energy storage systems for facility peak shaving and heavy-duty electric truck charging."
After the launch of Tesla Semi in 2017, PepsiCo placed one of the biggest orders for Tesla Semi: 100 electric trucks to add to their fleet.
Now it looks like some of them will go to the Modesto facility as part of this new project.
At the launch, Tesla has also unveiled its plan for an ultra-powerful electric truck charging station called Megachargers and it sounds like this project could get one of those charging stations.
Finally, Tesla Energy is also getting involved with energy storage and generation through a solar array.
Renewable energy produced by the solar panels will power Tesla's electric trucks, but they will also use a few Peterbilt electric trucks.
Last year, the truck maker announced a partnership with Meritor and TransPower, who will supply all-electric drivetrain systems for two Peterbilt vehicle platforms.
BYD, which is producing an all-electric yard truck in Califonia, will also be involved along with Volvo – though the latter is going to contribute natural gas truck instead of battery-electric.
Frito-Lay plans for the project to be fully operational within two years.
Here's the full filling for the project: