The 10 Most Exciting New EV Companies

HotCars, Story by Martin Peter • Yesterday 3:31 PM
I

n 2008, Tesla unveiled its first electric production car – the Roadster – sending the automotive world into a frenzy. Electric cars seemed like a far-fetched dream at the time, but seeing how good the Tesla Roadster was, showed gearheads that maybe electric cars could become a reality. Fast-forward to today, and it's hard to believe how far the EV industry has come. Tesla has grown to become the largest EV manufacturer with more than five models in production, prompting both new and old automakers to join the fast-growing industry. This article focuses on the former – new EV companies that have come up in the last few years.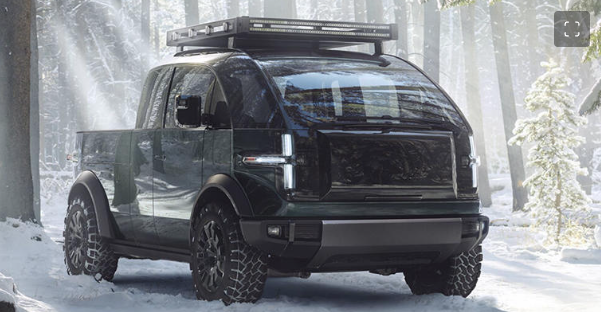 After seeing how successful Tesla has been in just over a decade, it didn't take long for entrepreneurs to join the space with competing companies. Some of these new EV companies are building direct competitors to Tesla's models in an attempt to steal its market share while others are coming up with new EV products to meet new market demands. Let's explore some of the best new EV companies today.
Lucid Motors
One of the main reasons why Tesla is so successful right now is that it had a free run at the EV market for many years with no signs of competition from anyone. One of the first companies to show any promise of challenging Tesla was Lucid Group. Lucid was established in 2007 by former Tesla vice president Sam Weng, but it took 15 years for the company to build its first and only production car to date – the Air.
The Lucid Air is an electric luxury four-door sedan that faces off against the Tesla Model S. The Air has proven to be a worthy Model S' rival as it offers a sleeker design, an upscale interior full of luxury features, and more range in the top-of-the-range Dream Edition.
History
Location: Newark, California

What They Do: EV Production

EVs manufactured in 2022: Lucid Air
Faraday Future
In 2014, Chinese businessman Jia Yueting established Faraday Future in Los Angeles with one goal – to build some of the best electric luxury cars. Faraday Future planned to build its first car in 2017, but financial problems and internal wrangles derailed the plans. The company's founder even filed for bankruptcy in 2019 and stepped down as CEO. It seemed Faraday Future was dying, but the company's fortunes changed in 2021 when it went public.
The company has stabilized since then and recently started producing its first car – the FF 91 Futurist Alliance. The FF 91 is a luxury crossover SUV that promises sheer luxury and hypercar performance. It has a tri-motor system making 1,050 ponies and will be able to hit 60 mph in just 2.2 seconds.
History
Year Founded: 2014

Location: Los Angeles, California

What They Do: Development of electric vehicles

EVs manufactured in 2022: Faraday Future FF 91 Futurist Alliance
Canoo
Canoo is a California-based EV startup that aims to produce 'lifestyle vehicles' like electric vans as well as commercial fleet vehicles. Canoo got into the EV business in 2017 and had such a rough time that it almost went out of business in 2022. Thankfully, it seems Canoo's fortunes have changed after receiving orders from NASA, Walmart, Zeeba, and Kingbee. Canoo also got into a partnership with the U.S. Department of Defense to develop high-capacity batteries.
The first Canoo model is known as the Lifestyle Vehicle – an upcoming 7-seat electric van that promises great practicality and versatility.
History
Year Founded: 2017

Location: Torrance, California

What They Do: Production of commercial electric vehicles

EVs manufactured in 2022: Canoo Lifestyle Vehicle
DEUS Automobiles
The electric hypercar market is alive and growing fast. We've already seen how good the Rimac Nevera is, and with other automakers building competitors, we'll soon have many options. One of the new players looking to join the electric hypercar market is DEUS Automobiles – an Austria-based company that's been in business since 2020.
The best-known car DEUS has built is the Vayanne – an electric hypercar that's expected to hit the streets as early as 2025. DEUS collaborated with Italdesign and Williams Grand Prix Engineering to develop the Vayanne, which is why it's so good. DEUS claims the Vayanne will produce around 2,250 hp, making it one of the most powerful electric cars ever.
History
Year Founded: 2020

Location: Vienna, Austria

What They Do: Production of electric hypercars

EVs manufactured in 2022: First model still in development
Automobili Pininfarina
Most gearheads know about Pininfarina – a legendary Italian design firm and coach builder that has penned some of the most iconic Ferrari designs ever. In 2015, Mahindra Group acquired Pininfarina intending to build Pininfarina-badged cars. Three years later, Mahindra Group launched Automobili Pininfarina to do just that. In 2019, Automobili Pininfarina unveiled its first production car – the Battista. Named after Pininfarina's founder Battista Pininfarina, this electric supercar announced the company's arrival in the industry and showed that it means business.
The Battista uses the mechanical underpinnings of the Rimac Nevera, but has a unique design that looks better in many gearheads' eyes.
History
Year Founded: 2018

Location: Munich, Germany

What They Do: Luxury electric vehicle production

EVs manufactured in 2022: Pininfarina Battista
DeLorean Motor Company (Texas)
When gearheads hear the word 'DeLorean', they instantly think of the legendary DeLorean DMC-12 – a futuristic sports car from the '80s that's widely considered to be one of the best Hollywood cars ever. Many gearheads also know that John DeLorean's original company only made the DMC-12 before going out of business. What many don't know is that a Texas-based company bought the rights to use the DeLorean Motor Company name and is now building its first car – the DeLorean Alpha5.
The DeLorean Alpha5 is an upcoming electric sports car that aims to honor the legacy of the old DMC-12. Like the DMC-12, the Alpha5's design came from Giorgetto Giugiaro's Italdesign and features the iconic gullwing doors and a louvered rear window.
History
Year Founded: 1995

Location: Humble, Texas

What They Do: Selling original 1982 DeLorean DMC-12 parts, EV production

EVs manufactured in 2022: DeLorean Alpha5
Fisker Inc.
Henrik Fisker is a renowned Danish automotive designer and entrepreneur who has always wanted to build cars. Fisker worked for decades at top companies like BMW, Ford, and Aston Martin before leaving to start Fisker Automotive in 2007. Fisker Automotive was quite successful at first, especially after unveiling the Fisker Karma, but it ran into problems and forced Henrik Fisker to leave in 2013. Three years later, Henrik Fisker established Fisker Inc with his wife and has developing EVs since.
The first vehicle built by the company is the Fisker Ocean – an electric crossover SUV that's already in production.
History
Year Founded: 2016

Location: Manhattan Beach, California

What They Do: EV production

EVs manufactured in 2022: Fisker Ocean
Aspark
Aspark is a Japanese engineering firm that's been offering engineering services to the automotive industry, electronic industry, and heavy industry since the early 2000s. About a decade ago, Aspark started working on an electric supercar aimed at breaking all the performance records in the world. Dubbed the Owl, this insane supercar will be built by Italian firm Manifattura Automobili Torino and will be one of the most expensive Japanese cars ever with a $2.5 million price tag.
The Aspark Owl is like no other Japanese supercar ever made. It has a low-slung design featuring gorgeous curves and dihedral doors and will reportedly come with four electric motors generating a crazy 1,984 hp.
History
Year Founded: 2005

Location: Kita-ku, Osaka, Osaka, Japan

What They Do: Offers engineering services to automotive, heavy, and electronic industries, EV production

EVs manufactured in 2022: Aspark Owl
Polestar
Most gearheads know Polestar as a Volvo division that builds high-performance versions of the Swedish automaker's ordinary models. These include the Volvo V60 Polestar Engineered and Volvo S60 Polestar Engineered. However, in 2017, Volvo and its parent company Geely announced that Polestar would become a separate brand focusing on EVs. Since then Polestar has built three production cars and will soon expand its lineup to include more than six models.
Polestar's best model is the Polestar 2, which is a five-door liftback that debuted in 2020. The Polestar 2 was the marque's first fully electric model and has been a hit since its debut. The dual-motor model offers up to 400 hp to play with and around 250 miles EPA range.
History
Year Founded: 1996
Location: Gothenburg, Sweden
What They Do: Production of high-performance Volvo models, EV production
EVs manufactured in 2022: Polestar 2
VinFast
Vietnam is not the first country that comes to mind when you think of car-making companies. However, one company trying to change that is VinFast. VinFast has been in business since 2017 and is the first Vietnamese automaker to expand into global markets. VinFast started by building gas-powered models based on old-generation BMWs but recently stopped producing ICE vehicles to focus on EVs.
VinFast is targeting the electric SUV market and has already announced six different models, with the best being the VF9 full-size SUV.
History
Year Founded: 2017

Location: Hải Phòng, Vietnam

What They Do: Production of electric vehicles and scooters

EVs manufactured in 2022: VinFast VF8, VinFast VF e34