THE LIVEWIRE ERGOGENICS VISION
LiveWire Ergogenics, Inc. (OTC:LVV) is a Company focused on acquiring and managing Special Purpose
Real Estate Properties conducive to discovering and developing high-end organic hand-crafted and easily consumable cannabinoid
Products

for the Health and Wellness Industry

The LiveWire Business Model
The LiveWire Ergogenics, Inc. (LVVV) business model is built on the principle of acquiring special-purpose real estate properties
conducive to discovering and developing cannabinoid products for the health and wellness industry to improve life
performance. The Company is focused on acquiring, managing, and licensing specialized cannabis real estate locations
of fully compliant and permitted turnkey facilities to produce cannabis-based products and services in California
and the state-wide distribution of these products under a unique revenue-sharing model.

Through our subsidiary Estrella Ranch Partners, we have acquired Estrella Ranch in Paso Robles into California's premier

c

annabis

cultivation and

destination

facility

.

 


We have made

considerable progress

i

n

realizing

our vision to create the world

'

s first

"

Estate Grown Weedery

"




to cultivate

the

highest quality organic-style products

on Estrella Ranch

in Paso Robles.
 The LiveWire "Estrella Weedery"
Estrella Ranch is a historic ranch property in Paso Robles, the center of California wine country. Through its subsidiary
Estrella Ranch Partners, the Company has begun transforming this stunning property into the world's first "Estate Grown Weedery,"
developing it into a facility to cultivate high-end organic sun-grown cannabis products and eventually the ultimate cannabis destination.
Estrella Ranch is considered the gem of the California Central Coast, located near Paso Robles and Santa Barbara, halfway
between Los Angeles and San Francisco, and surrounded by hundreds of world-renown wine yards. The Estrella Ranch
location is the central hub for all Livewire operations in California. Livewire runs an economically prudent cannabis
operation with an advantageous operational structure, sharing resources as needed between its subsidiaries and affiliate
companies at its locations at Estrella Ranch in Paso Robles, Humboldt, and Santa Cruz. Livewire continues to expand its
operations focused on the cost-effective production of the best quality cannabis in California while generating
the smallest possible carbon footprint and using as few of California's energy resources as possible  The Estrella Ranch
the location provides us with the ultimate micro-climate for operating a "tractor-less" operation, producing the
highest quality organic and hand-crafted outdoor cannabis product in the country
all year round under economically and environmentally advantageous conditions.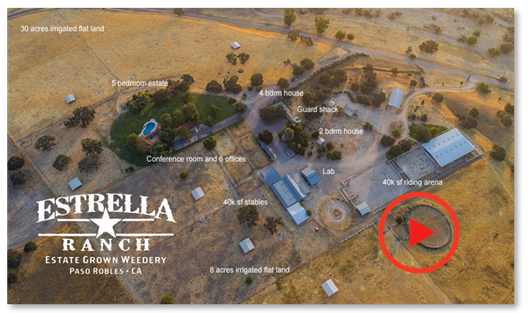 Makan Ola Farms
High-Quality, Hand-Crafted Sun-Grown Organic Cannabis
The Makana Ola Farms is a 40-acre parcel with a 9,900 sqft cultivation area located in the heart of Humboldt County in Northern California
with sufficient water and electricity facilities. Processing, including drying and curing, occurs within a 560-square-foot structure,
MAKANA OLA MEANS 'A LIVING GIFT'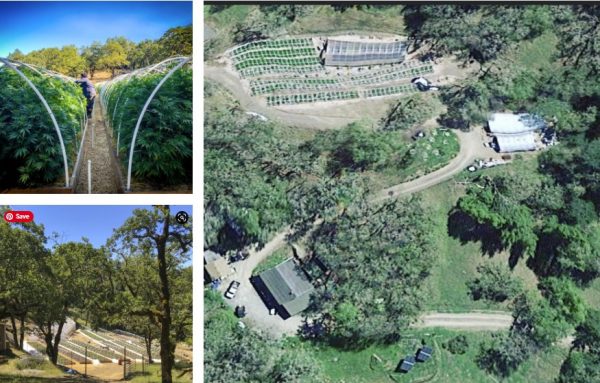 The "Estrella Weedery" Brand
This includes verification of zero pesticide products, the development, licensing and distribution of legal and high-quality
cannabinoid-based products and services and the creation of the high-quality "Estrella Weedery" brand. LiveWire Ergogenics
does not produce, sell or distribute products that are in violation of the United States Controlled Substance Act.
Strategic Alliance with QDG Agricultural

At the core of our vertically integrated Weedery business model for high-quality handcrafted products is the effort to enter
carefully selected strategic alliances and seek the cooperation of the most experienced operators in the cannabis industry under
a unique revenue-sharing model to accelerate development and revenue generation at the Paso Robles Weedery. After carefully
vetting several potential partners, we entered into the first definitive Agreement with an experienced agricultural company
and highly specialized cannabis grower, QDG Agricultural. QDG has begun to design, construct and manage all necessary build-outs
required for phase one of a self-sustained scalable growth operation within the constraints of our Estrella Weedery operations.

QDG will produce marketable cannabis strains as allowed per California Laws under a unique profit-sharing model between
the parties involved. LiveWire will manage the real estate, complete all permitting processes and obtain and
maintain all operating permits.