Dalrada Corporation Announces the Opening of its Heat Pump Showroom in Las Vegas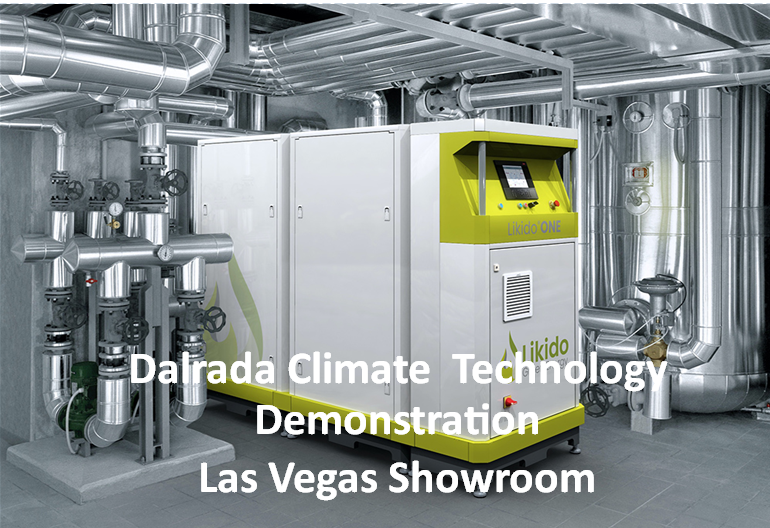 Company's advanced climate technology will be on display at new facility to highlight the extended capabilities of its heat pumps.
SAN DIEGO, CA – JULY 18, 2023 – Dalrada Financial Corporation (OTCQB: DFCO, "Dalrada"), a progressive company focused on environmental innovations to mitigate the negative impacts of climate change announced today the opening of a new showroom and demonstration room in Las Vegas, Nevada, to provide an exclusive opportunity to see the company's revolutionary heat pumps in action.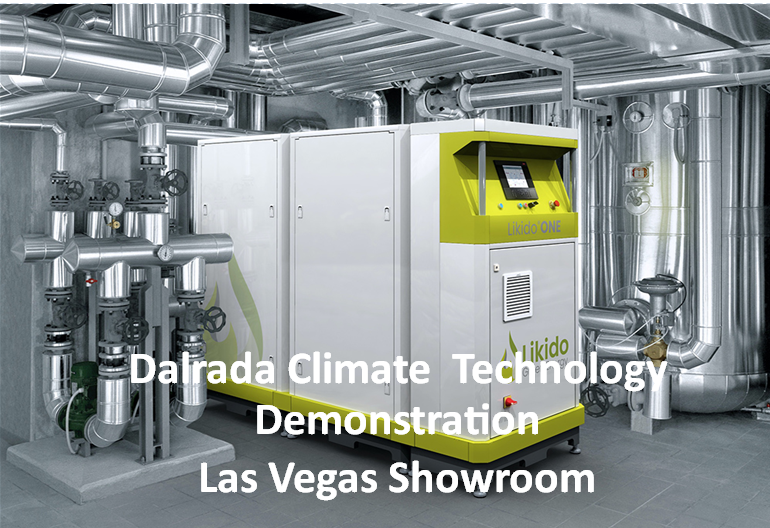 Dalrada Climate Technology heat pumps address the immediate global need for heating and cooling without combustion or the burning of fossil fuels. These heat pumps are the ideal replacement for traditional outdated water heaters, steam boilers, cooling towers, and chillers.
The unique proprietary technology found in each Dalrada machine provides decarbonized heating and cooling capabilities suitable for a broad range of industries and applications, including hotels and resorts, commercial and office buildings, hospitals and medical facilities, schools and universities, large data centers, and more.
"I'm thrilled that our new Las Vegas facility is up and running," said Brian Bonar, Dalrada's CEO and Founder. "We chose this location because it's in the middle of one of the harshest climates on earth―the dry, hot desert. Las Vegas is also one of the largest centralized locations of hotels and resorts in the world and our heat pumps represent the perfect solution for them in this challenging environment."
The demonstration room will allow visitors to observe fully-operational heat pumps and witness the extended capabilities of Dalrada's advanced climate technology that provides eco-responsible operations that reduce carbon output while delivering substantial energy and cost savings.
In-person and virtual tours of the facility are now available. The company will extend personal invites to a shortlist of prospective partners and clients around the country for exclusive showings. Anyone interested in scheduling a private tour is encouraged to submit a simple form here.
"We invite everyone to experience the game-changing power of Dalrada's climate technology in our new Las Vegas heat pump demonstration room," Mr. Bonar concluded.
For more information about Dalrada Climate Technology's revolutionary heat pumps, please visit www.dalradaclimatetech.com.
About Dalrada Corporation
Dalrada Financial Corporation (Dalrada) is a progressive organization that drives innovation to impact people, businesses, and the planet positively. The company owns and operates a global group of climate technology, clean energy, and precision manufacturing companies. Each of these companies has a clearly-defined mandate to identify, address, and deliver solutions to unique economic, environmental, and efficiency problems facing public, government, and private sector organizations. Dalrada responds by developing advanced technologies, products, and services with a clear and quantifiable value, generating a significant return on investment for its clients.
Dalrada companies are on the leading edge of developing and applying innovative eco-sensitive next-generation science, engineering, and technology, serving a broad range of industries and governments. The company's products and services significantly reduce energy costs and remove barriers for its clients, creating a more sustainable and prosperous future.
Dalrada's subsidiaries and strategic partners operate in the United States, United Kingdom, India, and Spain and are centrally managed from the company's San Diego, CA headquarters.
Disclaimer
Statements in this press release that are not historical facts, the statements are forward-looking, including statements regarding future revenues and sales projections, plans for future financing, the ability to meet operational milestones, marketing arrangements and plans, and shipments to and regulatory approvals in international markets. Such statements reflect management's current views, are based on certain assumptions, and involve risks and uncertainties. Actual results, events, or performance may differ materially from the above forward-looking statements due to a number of important factors and will be dependent upon a variety of factors, including, but not limited to, our ability to obtain additional financing that will allow us to continue our current and future operations and whether demand for our products and services in domestic and international markets will continue to expand. The Company undertakes no obligation to publicly update these forward-looking statements to reflect events or circumstances that occur after the date hereof or to reflect any change in the Company's expectations with regard to these forward-looking statements or the occurrence of unanticipated events. Factors that may impact the Company's success are more fully disclosed in the Company's most recent public filings with the US Securities and Exchange Commission ("SEC"), including its annual report on Form 10-K.
MARKET AWARENESS
Stockwatchindex, LLC
442-287-8059
info@stockwatchindex.com