Ford CEO not going to Microsoft, to stay at Ford through 2014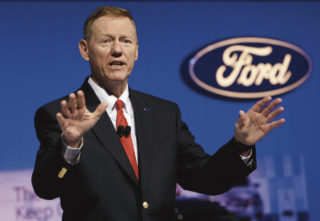 2 minutes agoDETROIT, Jan 7 (Reuters) – Ford Motor Co Chief Executive Alan Mulally will not take a job at software giant Microsoft Corp and will remain at the U.S. automaker through at least this year, according to the Associated Press.
A person close to the matter told Reuters Mulally is no longer under consideration for the top job at Microsoft.
Mulally, in an interview with the AP, said he wants to end the Microsoft speculation "because I have no other plans to do anything other than serve Ford."
When the AP asked whether his comments should end concerns from investors about his exit, Mulally said: "You don't have to worry about me leaving."
Ford spokesman Jay Cooney confirmed the comments. After news of the interview, Ford shares rose 1.3 percent in extended trade, while Microsoft shares fell 1.1 percent.
Several prominent Microsoft investors had campaigned behind the scenes for Mulally to succeed Microsoft's retiring CEO Steve Ballmer. But Mulally's candidacy for the job attracted considerable media attention that overshadowed Ford's product-related announcements, such as the roll-out of the new Mustang.
This frustrated Ford's board of directors, people familiar with the matter said.
Product names may be trademarks of their respective owners
StockWatchIndex, LLC
4712 Admiralty Way #173
Marina del Rey, CA 90292
www.stockwatchindex.com
[email protected] 
twitter.com/stockwatchindex
facebook.com/stockwatchindex