NeoStem Presents at Two Conferences
NeoStem to Present at Two Upcoming
Investor Conferences in March  
 
New York, March 12, 2015 – NeoStem, Inc. (NASDAQ:NBS) ("NeoStem" or the "Company"), a biopharmaceutical company developing novel cell based personalized medicine therapies, announced today that the Company's management will present at the BioCentury Future Leaders in the Biotech Industry Conference on March 20th and at the Alliance for Regenerative Medicine Regen Med Investor Day on March 25th.
 
BioCentury 22nd Annual Future Leaders in the Biotech Industry
Date and Time: Friday, March 20, 2015, 1:30 PM EDT
Venue: Millennium Broadway Hotel, New York, New York
Presenter: Dr. David J. Mazzo, Chief Executive Officer
Topic: Company Presentation
Alliance for Regenerative Medicine 3rd Annual Regen Med Investor Day
Date and Time: Wednesday, March 25, 2015, 11:20 AM EDT
Venue: Metropolitan Club, New York, New York
Website: http://arminvestorday.com/ 
Presenter: Dr. David J. Mazzo, Chief Executive Officer
Topic: Company Presentation
 
About NeoStem, Inc.
NeoStem is a biopharmaceutical company pursuing the preservation and enhancement of human health globally through the development of novel cell based personalized medicine therapeutics that prevent, treat or cure disease by repairing and replacing damaged or aged tissue, cells and organs and restoring their normal function. The combination of a rich therapeutics pipeline and externally recognized in-house manufacturing expertise has created an organization with unique capabilities for cost effective and accelerated product development. www.neostem.com  
 
Forward-Looking Statements
 This press release contains forward-looking statements within the meaning of the Private Securities Litigation Reform Act of 1995. Forward-looking statements reflect management's current expectations, as of the date of this press release, and involve certain risks and uncertainties. Forward-looking statements include statements herein with respect to the successful execution of the Company's business strategy, the Company's ability to develop and grow its business, the successful development of cellular therapies with respect to the Company's research and development and clinical evaluation efforts in connection with the Company's Targeted Immunotherapy Program, Ischemic Repair Program, Immune Modulation Program and other cell therapies, the future of the regenerative medicine industry and the role of stem cells and cellular therapy in that industry, and the performance and planned expansion of the Company's contract development and manufacturing business as well as its efforts to expand its capabilities into the cell therapy tools market. The Company's actual results could differ materially from those anticipated in these forward-looking statements as a result of various factors. Factors that could cause future results to materially differ from the recent results or those projected in forward-looking statements include the "Risk Factors" described in the Company's Annual Report on Form 10-K filed with the Securities and Exchange Commission ("SEC") on March 2, 2015 and in the Company's other periodic filings with the SEC. The Company's further development is highly dependent on future medical and research developments and market acceptance, which is outside of its control.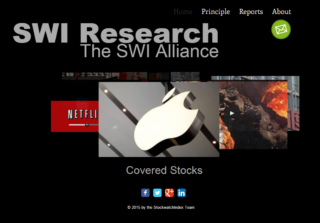 About SWI
SWI is a leading edge PR, Information Marketing and Research Service with a highly frequented web site www.stockwatchindex.com, its "Rise Above The Noise" newsletter and SWI Research site www.swiresearch.com. These services provide you with information and research on new and promising public companies. The QuickPicks section on the SWI site represent the consolidated opinions of carefully selected financial analyst blogs and opinions of Wall Street firms that we respect and frequently sample. The weekly SWI QuickPicks  Ratings Report keeps you informed about newly initiated stocks and potential upgrades and downgrades in the QuickPicks section. We are not being compensated by these companies and do not necessarily hold positions in any of these stocks.  You can conveniently follow the live links for each of these stocks on https://stockwatchindex.com/swi-quickpicks for more detail.  SWI's periodical "Portfolio Performance Report" frequently updates on the performance of the stocks that we have purchased and are holding in the SWI portfolio. Please do not miss the wealth of frequently updated news, research reports and other valuable information elsewhere on SWI, especially for the stocks on our WatchIndex page. Watch a full range of CEO and analyst interviews on our Strategic Partner site www.wideworldofstocks.com.  
Good luck and please pass this newsletter on to a friend
to continue building our community.
StockWatchIndex (SWI) is not a registered investment adviser and makes no warranty, expressed or implied, as to the accuracy or completeness or fitness for a purpose (investment or otherwise), of the information provided in the publications for its Stock Watch List or on its web sites. The provided information is not to be construed as personal financial advice, or a solicitation to buy or sell stock. Some information has been generated by what SWI deems to be reliable third party entities, but SWI does not guarantee the accuracy, timeliness, completeness or correct sequencing of the information, or  warrant any results from use of the information. We have contracted with some of the companies we present on SWI as public relations consultants to keep the market and especially our subscribers informed about the companies and may have been compensated in cash and/or stock and stock options, which may be considered a potential conflict of interest. Readers are encouraged to consult their personal financial adviser before making any decisions to buy, sell or hold any securities mentioned herein. StockWatchIndex is not responsible for any error, mistake or shortcoming that may be occasioned at the time of publishing of the information in its Stock Watch List or on its web sites. No liability is accepted by StockWatchIndex whatsoever for any direct, indirect or consequential loss arising from the use of the information. StockWatchIndex expressly disclaims any fiduciary responsibility or liability for any consequences