New biotricity CEO Video Interview
Watch the latest Small Cap Nation biotricity CEO Interview Here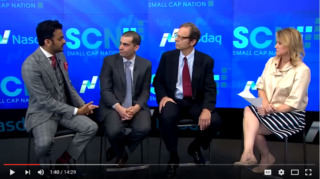 biotricity is a modern medical technology company focused on delivering innovative, real-time remote biometric monitoring solutions to the medical and consumer markets, including diagnostic and post-diagnostic solutions for chronic conditions and lifestyle improvement.
biotricity's R&D continues to focus on the preventative healthcare market, with the vision of putting health management into the hands of the individual. The company has a longstanding medical device history and aims to support the self-management of critical and chronic conditions with the use of innovative mobile solutions to ease the growing burden on the healthcare system.
CHANGING THE HEALTHCARE INDUSTRY
REAL-TIME MONITORING

The Company's first product is designed to track and report Cardiac activity in real-time, enabling physicians to remotely monitor and diagnose cardiovascular disease, while patients continue their daily activities. The technology also has numerous additional applications beyond remote cardiac monitoring.
ADVANTAGIOUS REVENUE MODEL
FOR DOCTORS AND HOSPITALS
The company has established a financially advantageous model that fits into the established insurance billing code and provides a reoccurring revenue
program for doctors, hospitals and IDFs. In addition, the technology is easily adoptable for applications adjacent to the MCT market.
GRANTS AND PARTNERSHIPS
Current company projects have been funded by the NRCC, including a study to determine if ECG readings have predictive value for use in preventive  medicine applications. biotricity retains ownership of all intellectual property rights under its R&D partnerships.