Hundreds of Cable, Telco and Video Providers know Adaptive Ad Systems




Ad Insertion, Ad Sales and new incremental Revenue




Let us share more with You Today
AD SYSTEMS
Ad Systems proprietary technology provides reliable ad insertion on up to 48 networks in Analog, SD and HD.
Our insertion products consist of a video server and a switch matrix. All of our insertion products contain a
fail-safe feature that ensures continued network coverage in case of failure by using a relay bypass mechanism.

DIGITAL INSERTION PRODUCTS
We are the ONLY Company in the industry with patent pending technology inserting on video powered by Direct to
Home Satellite Networks. Ideal for smaller head-ends, universities, hospitals, multiple dwelling units and hotels.

VIDEO SERVER PLATFORM
Storage for over 44,000 MPEG-2 or 6,000 MPEG-4 – 30 second Spots
Automatic downloading of schedules and Spots
Smart scheduling technology improves playback Performance
Automatic transfer of playback logs and diagnostic Data
Remote diagnostics for ease of Maintenance
Up to 8 simultaneous analog playbacks or one Ethernet-based multiplexed transport stream

 

TRAFFIC ENTRY & BILLING
The team at our subsidiary company, Market Specific Ads, handles all ad sales, traffic and billing functions for our
Partner systems and advertisers.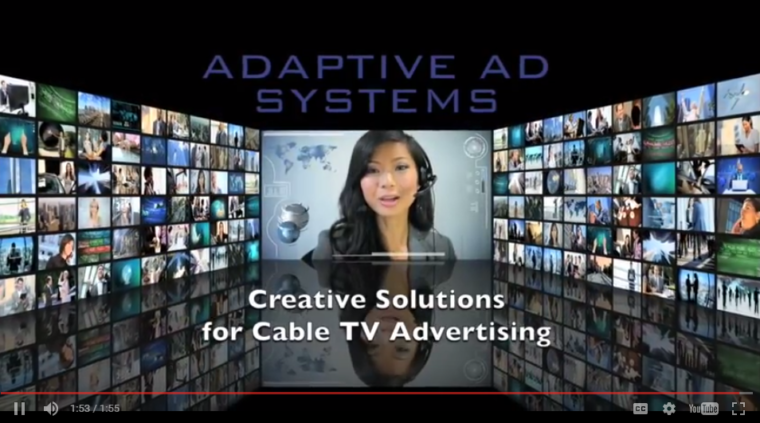 NOT FINANCIAL ADVICE
StockWatchIndex makes no warranty, expressed or implied, as to the accuracy or completeness or fitness for a purpose (investment or otherwise), of the information provided in the publications for its Stock Watch List and the information is not to be construed as personal financial advice. Some information has been generated by reliable third party entities, but has not been checked for accuracy by Stock watch Index. Readers are encouraged to consult their personal financial adviser before making any decisions to buy, sell or hold any securities mentioned herein.
NO WARRANTY OR LIABILITY ASSUMED
StockWatchIndex is not responsible for any error which may be occasioned at the time of publishing of the information in its Stock Watch List or any error, mistake or shortcoming. No liability is accepted by StockWatchIndex whatsoever for any direct, indirect or consequential loss arising from the use of this document. StockWatchIndex expressly disclaims any fiduciary responsibility or liability for any consequences, financial or otherwise arising from any reliance placed on the information in this document. StockWatchIndex does not (1) guarantee the accuracy, timeliness, completeness or correct sequencing of the information, or (2) warrant any results from use of the information. The included information is subject to change without notice.