SWI Research Report 
THE COMPANY 

Immune Pharmaceuticals Inc. (IMNP) is a clinical stage development company researching and developing new and advanced therapies for the treatment of immune-inflammatory diseases and cancer. Immune Therapeutics applies a highly  personalized approach to disease treatment, developing novel and carefully targeted antibody therapeutics to improve the lives of patients. Management has recently moved Immune's U.S. Headquarter, Clinical Development, Immunology R&D Lab and Translation R&D to the Alexandria Center for Life Science in New York, the heart of the Biotech industry. Its Bio-Process Development unit is located in Cambridge, MA. Clinical development, Translation R&D and Nanotechnology R&D are located in Jerusalem, Israel. Under the leadership of its CEO, Daniel Teper, the company has engaged a new leadership team with a proven track record in both Pharma and fast growing Biotech firms:
Boris Shor, PhD –  Executive director of R&D and Scientifics Partnership,
G. John Mohr – Senior Vice President of Business Development, formerly at Merck and CV Therapeutics
Monica Luchi, M.D – Chief Medical Officer, formerly at Novartis
Miri Ben Ami, M.D. – President, Immune Pharmaceutical, Ltd., formerly at Teva and  Aposense.
The Company is also committed to further strengthen its Board of Directors with the addition of members with successful leadership experience at public Biotech or Pharma companies. The management team is supported buy a highly  experienced Scientific Advisory Board from all sectors of the biotech, pharma and financial  industries.
COMPANY VIDEO
     
Developing Antibody Therapeutics
 
PRODUCTS
Two Proprietary Technology Platforms
Immune Pharmaceuticals has developed two leading edge proprietary platforms, NanomAbs – Antibody Nanoparticle Conjugates with Bi-Specific Antibodies. The companies Small Molecules (Azixa and Croliubulin will be out-licensed. Planned Spin Offs into the Immune-Oncology biotech sector are planned to be financed by institutional investors and corporate partners, with a buy-back option for Immune, or a full spin off via new IPOs or appropriate mergers and/or acquisitions.
Lead Product Candidate – Bertilimumab
The company's  lead product candidate in the Immune Therapy field, Bertilimumab, is in an FDA approved Phase II clinical development for moderate to severe ulcerative colitis as well as for bullous pemphigoid. Other indications considered for Bertilimumab development include atopic dermatitis, Crohn's disease, severe asthma and inflammatory liver diseases (NASH).
Bertilimumab – First in Class
BP is a rare autoimmune blistering skin disease that typically affects individuals older than 65 years. Currently, there is no cure for BP. Immune's Bertilimumab is the First-in-Class Human Monoclonal Antibody, targeting and neutralizing Eotaxin-1. The US/EU market size is currently estimated at 60,000 patients, expected to grow to 1 Million by 2025.
Bertilimumab was originally developed by Cambridge Antibody Technology (now part of MedImmune, the biologics division of AstraZeneca. CAT licensed Bertilimumab to iCo Therapeutics, who  retains the rights to develop ophthalmic indications (Kerato-conjunctivitis, wet Age-related Macular Degeneration). Immune Pharmaceuticals owns the rights and took responsibility for product supply and all non-ophthalmic indications in June 2011.
Product Portfolio
The company recently expanded its portfolio into immune-dermatology, topical nano formulated Cyclosporine A (CsA) for the treatment of psoriasis and atopic dermatitis.  Immune's pipeline also includes NanomAbs® , antibody nanoparticle conjugates, for the targeted delivery  of chemotherapeutics. The company plans to file additional IND applications for several  of its new products  during 2016.
ONCOLOGY CLINICAL PIPELINE
CrolibulinTM
CrolibulinTM is a novel small molecule vascular disrupting agent, or VDA, and apoptosis inducer for the intended treatment of patients with solid tumors. Crolibulin is being studied by the National Cancer Institute in a Phase II study for the treatment of anaplastic thyroid cancer ("ATC"). Crolibulin  TM  has shown promising vascular targeting activity with potent anti-tumor activity in pre-clinical in vitro and in vivo studies and in a Phase I clinical trial. To date over 100 patients have received Crolibulin  TM,   The molecule has been shown to induce tumor cell apoptosis and selectively inhibit growth of proliferating cell lines, including multi-drug resistant cell lines. Murine models of human tumor xenografts demonstrated Crolibulin TM inhibits growth of established tumors of a number of different cancer types. In preclinical animal tumor models, combination therapy has demonstrated synergistic activity with cytotoxic drugs as well as anti-angiogenic drugs, such as Avastin. This may support further development of Crolibulin  TM in a variety of cancers other than ATC, including but not limited to refractory ovarian cancer and neuro-endocrine tumors.
Azixa® (verobulin)
Azixa® (verobulin)  is a Vascular Disruptive Agent in development for the treatment of primary brain cancers and metastatic tumors with brain involvement. Azixa® is a novel small molecule drug candidate that acts as a microtubule destabilizing agent, causing arrest of cell division and programmed cell death, or apoptosis, in cancer cells. Several currently marketed clinically effective drugs share the identical mechanism of action. Importantly, however, Azixa® has two distinguishing characteristics. In non-clinical studies, Azixa® has demonstrated the unique ability to effectively cross the blood-brain barrier and reach concentrations in the brain which are as much as 30 times that measured in the plasma. In addition, Azixa® does not appear to be subject to multiple drug resistance (MDR) mechanisms.
Two Phase 2a clinical studies demonstrated that:
Azixa®, in combination with standard chemotherapy, resulted in durable responses with no additive toxicity in patients with glioblastoma multiforme (GBM) or metastatic melanoma.

 

Azixa® in monotherapy resulted in durable responses in GBM patients who had failed both first and second line therapy. Azixa®

has received orphan drug status in the U.S. for the treatment of glioblastoma multiforme (GBM).
IMMUNE WILL CONSIDER REGION

AL OR GLOBAL PARTNERSHIPS (OUT-LICENSING OR
CO-DEVELOPMENT) FOR THE FURTHER DEVELOPMENT AND COMMERCIALIZATION OF ITS ONCOLOGY CLINICAL PIPELINE.
SEC Filings

Price Chart
 
Analyst Coverage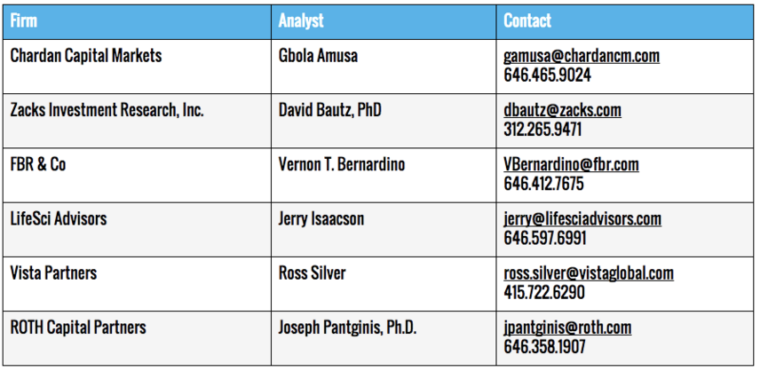 StockWatchIndex
Research Report
 You can also talk to REAL people.
They will answer you questions.