Tesla Supercharger Network: Gas Station for EVs in Future
Tesla Supercharger Network: Gas Station for EVs in Future
Story by Ellen Chang • 1h ago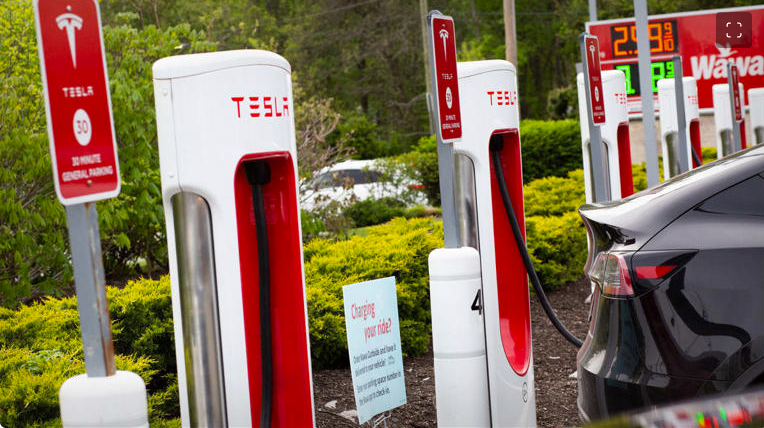 Tesla's charging network could be a valuable asset for the electric vehicle manufacturer, said Morgan Stanley analyst Adam Jonas.
The EV company partnered with Ford  (F) – Get Free Report, GM  (GM) – Get Free Report and Rivian  (RIVN) – Get Free Report recently and is giving their drivers access to Tesla's charging network.
Tesla TSLA has 12,000 fast chargers which GM drivers will be able to access. This partnership follows Ford's deal with Tesla on May 25.
DON'T MISS: Tesla and GM Make Big Announcement
Tesla could emerge as the gas station for EVs as more consumers switch from internal combustion engine vehicles and adoption rates for them rise, Jonas wrote in a research report.
The number of EVs being sold only account for about 7% of new car sales currently, but by 2030, that number could rise to 25%, he estimates.
Jonas, a noted Tesla bull, estimates that 75% of new cars sold by 2040 will be EVs as consumers will make the switch to save money on gasoline and seek more environmental alternatives to transportation as battery ranges increase and more charging stations are made available.
The number of miles that are driven will also rise to 8% by 2030 and will increase exponentially, he said.
"We also forecast EV miles driven, a fundamental underpinning of any EV infrastructure model," Jonas said. "We forecast EVs account for less than 1% of US miles travelled today, rising to 8% by 2030, 22% by 2035,50% by 2040 and nearly 90% by 2050."
Tesla could assert "dominance" as the "filling station" in the future if the company was able to generate "its own electricity at a near zero marginal cost (and stable), stored on site with stationary batteries?" he  said.
During the next decade Tesla could wind up with the "dominant" share of the charging infrastructure if the majority of the power used is purchased at a low cost from a renewable source such as solar, Jonas said.
Using renewable energy along with on-site storage such as Tesla's batteries called megapacks and "discharged in the middle of the day during peak demand when drivers have fewer alternatives" could be an option for the company, he said.
"We think the consideration of Tesla supercharging stations should be seen in concert with the company's vertically integrated capabilities in renewable energy and storage at scale," Jonas said.
Tesla's stock has shot up by 38.3% during the past month, but Jonas also changed his rating on Tesla to 'equal weight' from 'overweight' on Thursday.
Jonas insisted he was not "trying to call an end" to the stock's impressive 2023 rally as he added $50 to his price target, which now sits at $250 per share.
Even though Tesla's shares are trading more than 100 times higher than Jonas' full-year earnings forecast, additional upside would likely need to come from elsewhere.
Tesla Opens Its Charging Network
Both Detroit automakers GM  (GM) – Get Free Report and Ford F will add a charging port in 2025 called NACS or the North American Charging Standard, which is the one used by Tesla. The EV industry uses the CCS in EVs currently.
One sticking point to encourage more drivers to switch over to EVs has been finding charging ports easily. The U.S. government will invest billions of dollars to ramp up the number of charging locations. Several automakers have also invested in charging networks.
GM has been adding more models to its current lineup of fully electric vehicles as competition has heated up in recent years. Legacy automakers have developed EVs and many have started construction on their own battery plants.
"This collaboration is a key part of our strategy and an important next step in quickly expanding access to fast chargers for our customers," Barra said in a statement. "Not only will it help make the transition to electric vehicles more seamless for our customers, but it could help move the industry toward a single North American charging standard."
Having an "all in one standard" will drive additional adoption of EVs, Barra said during Spaces.
An increase in access to charging "will help" put people's "mind at ease," Musk said.
He said Tesla would not "do anything" to give preference to Tesla drivers when it comes to the charging networks.
Tesla's Supercharger network globally includes 45,000 connectors at 4,947 Supercharger stations.
The U.S. Department of Energy said there are 5,300 CCS fast chargers located in the U.S. currently. The EV maker has not said how many are located in the U.S.
Ford Motor CEO Jim Farley discussed last month how the legacy automaker will partner with its competitor Tesla by using its charging network for its electric vehicles as well.
Farley discussed the initiative with Tesla CEO Elon Musk via a Twitter Spaces. Owners of Ford EVs will be able to access Tesla's Supercharger network in the U.S. and Canada, starting in 2024.
Ford was the first automaker to conduct a deal to use Tesla's chargers.
Ford currently has over 10,000 DC fast-chargers that are already part of its BlueOval Charge Network. Its dealers will add about 1,800 public-facing fast-chargers and locations to the BlueOval Charge Network by early 2024.
Customers who own the Mustang Mach-E, F-150 Lightning and E-Transit can use Tesla's network by adding an adapter and software integration. It will also require activation and payment via FordPass or Ford Pro Intelligence.
By 2025, Ford's new EV models will have the NACS connector built-in and will not need an adapter to use Tesla's charging network.
Charging Network Received Federal Money
The news was initially announced by the Biden administration in February when Tesla said it would make at least 7,500 chargers available for all EVs by the end of 2024, but no partnerships with specific automakers were named.
The infrastructure law includes federal government investments of $7.5 billion in EV charging, $10 billion in clean transportation and over $7 billion in EV battery components. Tesla's charging network currently is only available for its own vehicles.
Ford vehicles will need to add an adapter in order to charge. The veteran automaker has been under scrutiny as investors and analysts are skeptical of its ambitions to become a major player in electric vehicles.
Ford separated its EV business from its combustion engine models in March 2022.
Action Alerts PLUS offers expert portfolio guidance to help you make informed investing decisions. Sign up now.